Dual Stream® Screen
The Dual Stream® screen provides debris removal, dewatering and compacting all in one robust, efficient design. This continuous, self-cleaning band screen is available with filter and perforated plate panels. The unique design allows the flow to enter the center of the screen and exit the bottom and two sides of the grid assembly.
The overall design and development of this product incorporated the latest in materials and engineering know-how, and complete component design evaluations. As a result of numerous advancements, the Dual Stream® screens provide low headloss and extended service life with minimal maintenance requirements. The Dual Stream® is available for filter panel or perforated plate applications.
The Dual Stream® screen has many unique features. The distinctive benefits of the grid include interchangeable filter materials, "tilt-out" panels with sealing between individual units, lightweight panel frames; all constructed from high strength stainless and non-metallic corrosion resistant materials. The Dual Stream is offered with a range of fine screening options, making it possible to specify a grid opening from 1/4 inch to 1/2 inch and perforations from nominal 2 mm to 6 mm. A spray wash system is provided with the latest approach in cleaning technology. An integral screw compactor efficiently washes, and compacts captured debris, prior to discharge, or the units can be installed with a sluice discharge.
Filter Panels
To provide our customers with a product that is efficient in screenings removal and very user friendly, a SNAP-LOCK® insert panel has been designed for easy removal and replacement without the use of any tools. The SNAP-LOCK® insert panel has a locking device on each side that can be hand compressed to release the panel from the frame. The locking device has a tapered leading edge so that a new insert panel can be easily snapped and locked into the panel frame.
SNAP-LOCK® insert panels are a molded high-strength composite. The material is tough and impervious to corrosion. The standard panels are available in 1/4″, 3/8″ or 1/2″ spacing, meeting the most common screening requirements.
The SNAP-LOCK® insert panels mount in a standard high strength frame assembly. Because all available clear openings are compatible with the standard frame, a complete screen can be changed to a different spacing in a matter of hours. This would allow for varying the grid during different seasons of the year, and also for a quick change due to a change in facility screening requirements.
Perforated Plate Panels
The perforated plate panel from WSG & Solutions, Inc. provides a combination of materials and design which deliver a high-efficiency in debris removal. This is accomplished with high percent open area perforated materials utilized in the grid arrangement. The unique design of the screening grid, which is installed perpendicular to the direction of flow, directs the waste stream into the front of the unit and exits through the two sides and bottom of the grid. This presents a maximized screening area to the oncoming flow.
The perforated panels are available in either stainless steel or non-metallic materials, available in sizes from 2mm to 6mm, and include a debris lifting shelf. The design has been proven to endure severe debris loadings while significantly reducing the problem of stapling, caused by strings and fibrous debris.
Optional Wash Module (for compactor)
10 GA formed stainless steel sheet gasketed housing, 1″ diameter stainless spray header with (6) spray nozzles and end cap. Typical water requirements are 4 to 5 GPM per nozzle at 60-80 PSI.
Features
Quick and easy installation

Tilt-out removable screen frames

Direct drive system

Integral compactor

Low headloss

Screen by-pass door
Applications
Sizes: 24″x24″, 24″x36″, 36″x24″, 36″x36″

Channel width: 3′-0″ minimum

Channel depth: up to 20'-0"

Spacing

Filter panels: ¼", ⅜", ½"

Perf panels: 2mm, 3mm, 4mm, 6mm
Markets
Municipal wastewater

Pump stations

Fresh water intake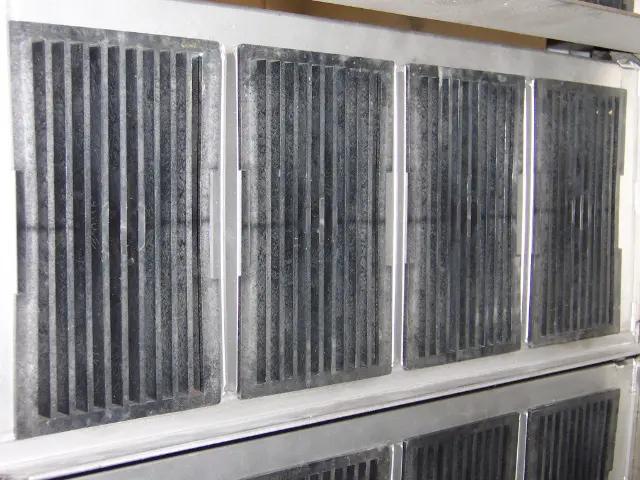 Parts
WSG & Solutions, Inc., is your exclusive OEM source for genuine Dual Stream® Screen aftermarket parts and support. We stock Dual Stream Screen parts to ensure quick delivery and have the expertise and design records to provide rebuilds or retrofits to ensure the long-term operation of your screen.
Contact us for the following Dual Stream® Screen parts: guide links, panel seal plates and bushings, insert panels, spray headers and nozzles, replacement guide tracks, head shaft bearings, drive components and switches.
We are also your source to secure spare insert panels to help eliminate down-time during screen change-outs or maintenance.
Order Replacement Parts