Link-Belt® Type AS Grit Collector
The Link-Belt Type AS Grit Collector is designed for small plants with flows up to 10 MGD. The unit consists of a hopper with an inclined screw and grit washer for removing and washing grit. Air is provided to maintain uniform velocities at all flows.
The unit uses compressed air through diffusers to create and maintain circulating velocities of 1 to 2 fps. This produces optimum conditions to separate grit and organic matter at all flows.
Features
Ideal for small chambers

Durable components designed for grit collection service

Drive System – 1 HP Variable Speed

Optimal grit removal based on detention of 1 to 3 minutes

Material of Construction – Carbon or Stainless Steel
Applications
Flow – up to 10 MGD

Removal capacity – 50 cu ft / hr (65 mesh)

Tank Length – 13′-4″ to 24′-0″

Tank Width – 2′-6″ to 10′-0″
Markets
Municipal wastewater

Pulp & paper

Food & beverage

Pump stations

Metal processing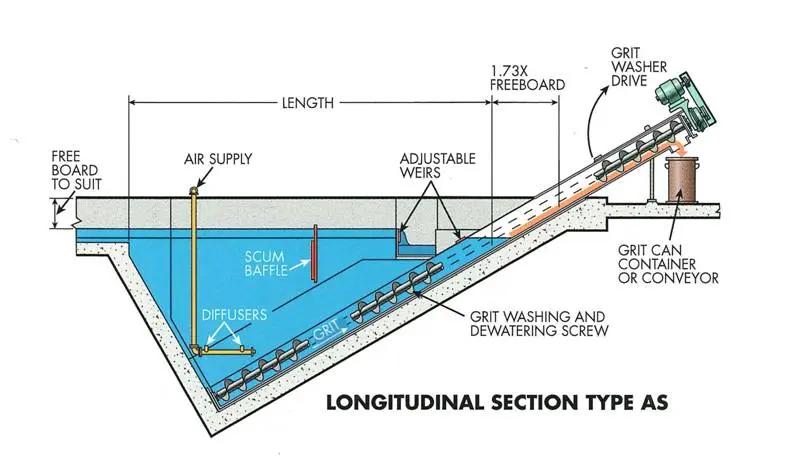 Parts
WSG & Solutions, Inc., is your OEM source for genuine Link-Belt® aftermarket parts and support. We stock common Link-Belt Type AS Grit Collector parts to ensure quick delivery and have the expertise and design records to provide rebuilds or retrofits to ensure the long-term operation of your grit system.
Contact us for the following common Link-Belt Type AS Grit Collector parts: bearings, diffusers, screw conveyors, stub shafts, hanger bearing, drive assemblies, electric components and ALL fabricated parts.
Order Replacement Parts