Chicago Pump Swingfuser®
The Chicago Pump Swingfuser® family of aerator products have been installed in hundreds of wastewater treatment plants around the world for over 60 years. Units have been installed in aeration tanks, aerobic digesters, pre-aeration tanks, post-aeration tank, channels and Aer-degritter units.
These units have been designed to provide consistent, laminar flow at design air rates to minimize head losses throughout the unit as well as the associated power costs to overcome those head losses.
Standard materials of construction include cast iron tees and knee joint assemblies along with galvanized and stainless headers to provide long-term structural integrity of the units.
Features
Portable design with hydraulic hoists enable inspection and maintenance without dewatering

Three different models and wide range of diffuser options to meet all coarse and fine aeration requirements

Header bosses for AdjustAir

®

, Discfuser

®

and Pearlcomb

®

diffusers

Available in galvanized and stainless steel
Applications
Model B1

Header length: up to 16′-4″

Max water depth: 15′-9″

Model B4

Header length: up to 24′-4″

Max water depth: 24′-0″

Model 30

Header length: up to 29′-4″

Max water depth: 27′-0″
Markets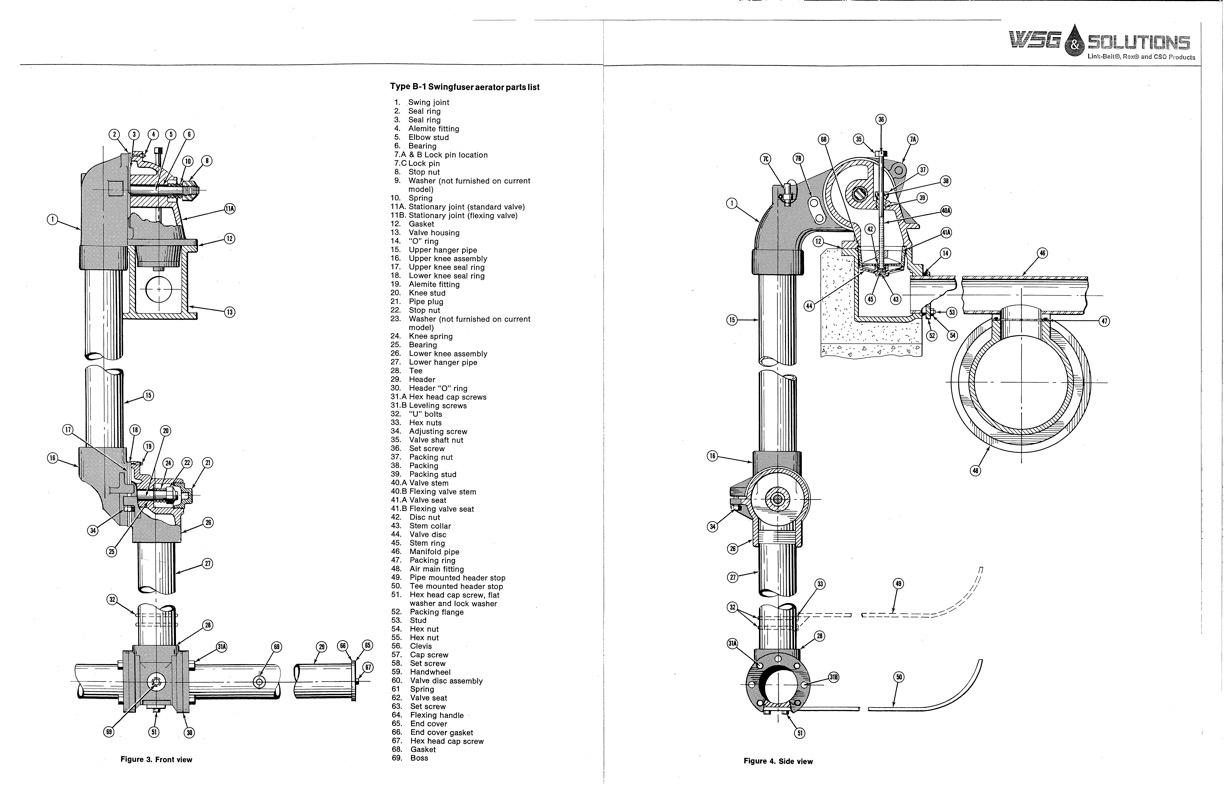 Parts
WSG & Solutions, Inc., is your exclusive OEM source for Chicago Pump Swingfuser® aftermarket parts and support. We stock Chicago Pump Swingfuser® parts to ensure quick delivery and have the expertise and design records to provide rebuilds or retrofits to ensure the long-term operation of your screen.
Contact us for the following common Chicago Pump Swingfuser parts: valve assemblies, headers, knees, elbow, headers, tees, AdjustAir® , Discfuser® and Pearlcomb® diffusers and ALL fabricated parts.
Order Replacement Parts