About Us
From our headquarters in Montgomeryville, Pennsylvania, WSG & Solutions, Inc., has been providing headworks, grit removal and stormwater product solutions to our global customer base for over 16 years.
We understand the value of knowledge and have invested in acquiring the largest library of original design records for a wide variety of headworks and grit removal systems that have been installed over the past 100-years. These design records enable us to deliver the same expertise, designs, and parts that legacy equipment operators have come to expect to keep their systems operating.
We are the only genuine OEM source for all the headworks screening and grit removal products previously supplied by Link-Belt®, Rex®, FMC, US Filter, Envirex, Chicago Pump®, Veolia and Siemens Water Technologies. Our unique knowledge and capabilities provide you with the best option to ensure trouble free-system operation – from new installations to genuine replacement parts and system retrofits.
Working with our partner network, we bring leading solutions to the North American market, such as Biogest storm water tank flushing and stormwater screening systems that protect our critical, environmental collections infrastructure. We partner to design, commission and service these CSO systems.
We have a team of application engineers and knowledgeable representatives that are here to serve as your trouble shooters, technical support staff and solution providers for the life of your system.
Our application engineers utilize the latest innovative design approaches, and our operations team manages specialized, North American based, fabrication facilities to ensure delivery of the highest quality products with attention to fits, tolerances and metallurgy based on our extensive library of original design records.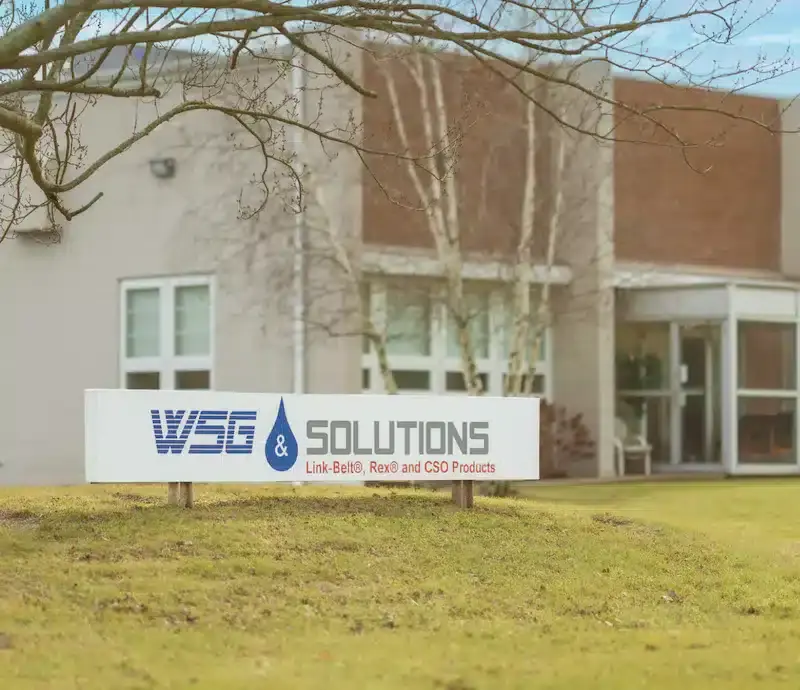 There is a proven legacy behind every new project, system retrofit, part and service from WSG & Solutions, Inc., and we are your long-term partner for:
New product selection and design
System upgrades and retrofits
Equipment and part rebuilds
Original OEM parts and stock inventory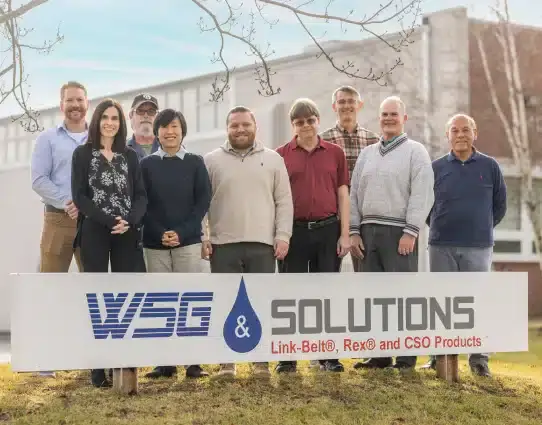 Mission Statement
WSG & Solutions, Inc., was founded with the goal of continuous customer satisfaction through the supply of genuine OEM parts and solutions that help to ensure the long-term operation of critical equipment at municipal and industrial wastewater treatment facilities. The entire organization is 100% committed to continuous improvement and delivering first class quality products, services, support, competitive product pricing and doing what's best for our valued customers.
Making A Positive Impact
Protecting Treatment Infrastructure
Minimizing Treatment Process Waste
Removing Debris from Stormwater
Rebuilding Equipment to Reduce Co2

BUILD AMERICA, BUY AMERICA COMPLIANT
News & Events
We look forward to seeing you in Hershey, PA where PWEA and WEF members will meet for their annual conference….
Planning to attend the Water Environment Federation Collection System Conference in Kansas City? We look forward to meeting with you…
The conference brings together a broad range of professionals from water and wastewater utilities and the solution providers that help…
Careers
What It's Like to Work With Us
Our mission is to help ensure that vital wastewater treatment and stormwater management infrastructure operates as designed to help protect our communities and environment. As treatment infrastructure continues to age and destructive storm events become more wide-spread and common, the dedication and expertise of our WSG & Solutions, Inc., team becomes more critical with every passing day.
We have built a strong reputation as a leader in the industry by investing in the largest library of original design records and combining this legacy knowledge with leading engineering and manufacturing approaches. Our team is guided by a commitment to innovation, knowledge, quality and customer service.
WSG & Solutions, Inc. is an equal opportunity employer.
How to apply
Be part of the WSG & Solutions, Inc. success story and make an impact with us. We are always looking for passionate people who share our drive for innovation, collaboration and superior customer service.
SEND TO: info@wsgandsolutions.com